Understanding Managed Service Projects
Understanding Managed Service Projects: What They Are and How They're Done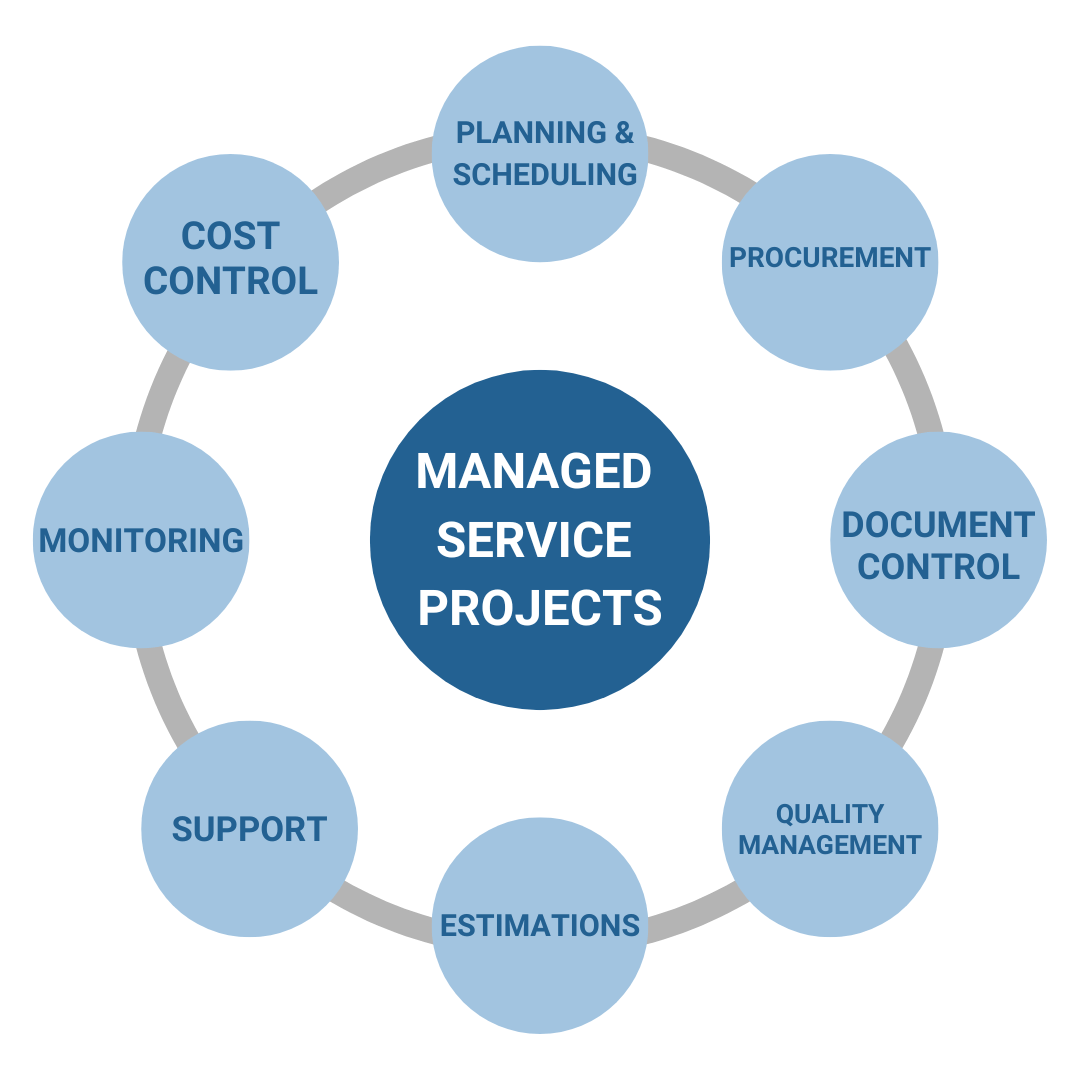 Managed Service Provider (MSP)
A Managed Services Provider (MSP) is a company that provides a range of IT services to businesses on a contract or subscription basis. This allows businesses to outsource their IT needs to a single provider, rather than having to manage them in-house. Managed Service Providers can help free up the time of a CEO to do their management responsibilities by taking on many of the IT-related responsibilities that can be time-consuming and complex for a business leader to manage. They can also provide strategic IT planning and consulting services to help the CEO make informed decisions about the company's technology investments.
The cost for managed services can vary depending on the specific services provided and the size of the company. For small and medium-sized company, the cost can range from a few hundred dollars per month to a few thousand dollars per month, while larger business pay tens of thousands of dollars per month for MSP services.
To assess the need for a managed services, you should consider the following factors:
The complexity of your IT infrastructure: If your IT environment is complex and difficult to handle, a MSP can help simplify it and free up your internal resources.
The availability of internal IT resources: If you don't have enough internal IT supplies to handle your IT processes, a managed service can provide the necessary expertise and support.
The importance of uptime: If uptime is critical to your business, a managed service can help ensure that your IT services is always available.
The need for compliance: If your business is subject to industry-specific regulations, a managed service can help ensure that your IT process is compliant.
The need for scalability: If your business is growing rapidly, a managed service can help ensure that your IT environment can scale to meet your needs.
The need for cost savings: If you want to reduce your IT costs, a managed service can help you achieve this by providing you with a predictable, fixed-cost IT.
Ultimately, the decision to use a managed service should be based on the specific needs of your business and the benefits that a managed service can provide.
Managed Service Market
Exploring the Managed Service Market in 2023: Trends, Growth Opportunities, and Challenges
The managed service market has grown significantly in recent years, as more and more businesses look to outsource their IT needs to improve efficiency and reduce costs. According to a report by MarketsandMarkets, the global managed services market is projected to grow from $193.09 billion in 2019 to $296.38 billion by 2024, at a CAGR of 8.8% during the forecast period. The increasing adoption of cloud computing and the growing demand for IT managed services in small and medium-sized businesses are driving the growth of the managed services market.
Managed Services Model
The managed services model typically includes ongoing monitoring, management, and maintenance of IT systems and infrastructure. This can include services such as network management, data backup and recovery, system updates, and security management. The MSP is responsible for the day-to-day management and support of a business's IT systems, including troubleshooting issues, performing system updates, and providing technical support to users. This allows the business to focus on its core operations, rather than having to devote capacity to IT management.
Managed Service Providers Shift Towards Proactive, Predictive Approach with Increased Use of Automation and Machine Learning, Cloud-Based Services, and Vertical-Specific Solutions
The trend in managed service model has been shifting towards a more proactive and predictive approach, rather than a traditional reactive approach. This means that managed service providers (MSPs) are now using advanced technologies such as automation and machine learning to proactively identify and resolve potential issues before they can cause significant problems. Additionally, MSPs are increasingly focusing on providing proactive cybersecurity services to help protect their customers' networks and data from cyber threats. Another trend is the increased use of cloud-based services, which allows MSPs to deliver their services remotely and more efficiently. There is a growing trend of MSPs offering vertical-specific solutions which cater to specific industries such as healthcare, finance, retail, and more.
Managed Services Business Model
Maximizing Business Success with Managed Services Business Model: Key Strategies and Tips
Managed services providers (MSPs) often use a combination of different business models to provide their managed services to customers. Here are a few examples of business models that are commonly used by MSPs:
Subscription-based model: MSPs offer various IT services and support on a recurring basis, often with different levels of service and pricing options.
Project-based model: MSPs provide services on a project basis, charging a flat fee for specific services such as network setup, cloud migration, or vulnerability assessments.
Pay-as-you-go model: MSPs charge customers based on usage, such as the number of devices managed or the amount of storage used.
Break-fix model: MSPs charge customers on an as-needed basis for troubleshooting and repair services.
Managed Security Services Provider (MSSP) model: MSPs specialize in providing cybersecurity services to their clients.
Virtual CIO (Chief Information Officer) model: MSPs provide strategic IT planning and consulting services to help their clients make informed decisions about their technology investments.
Cloud Service Provider (CSP) model: MSPs provide a variety of cloud-based services such as hosting, storage, and software-as-a-service (SaaS) applications.
Hybrid model: MSPs offer a combination of different business models to provide a comprehensive set of IT services to their clients.
Managed services provider have to consider various factors when selecting a managed services model , such as the services offered, the target market, the level of competition, profitability and scalability, the company's current and projected capacity and capabilities, the regulatory environment, the level of customer service and support, and the company's financial resources.
Managed Services Team
What are the key characteristics of a high-performing managed service team in 2023?
The best managed services provider team is one that is able to provide excellent service and support to its customers while also being efficient and effective in its operations. Some key characteristics of a high-performing managed services team include:
Strong technical expertise: The team should have a deep understanding of the technologies and systems it is responsible for managing, and be able to quickly and effectively resolve any issues that arise.
Excellent communication and customer service: The team should be able to clearly communicate with customers and provide prompt and helpful service.
Proactive and preventive maintenance: The team should have a focus on preventing issues from occurring in the first place, through regular monitoring, updates, and maintenance.
Continual improvement: The team should be committed to ongoing improvement, by keeping up to date with new technologies and best practices, and continuously looking for ways to improve its service.
Strong leadership: The team should have a clear direction and structure, with strong leadership that sets clear goals and objectives, and holds team members accountable.
Scalability: The team should have the ability to scale its services to meet the needs of growing or changing customer base.
Embrace new technologies: The team should be open to and well-versed in new technologies, such as cloud-based services, automation, and AI.
Compliance and security expertise: The team should have a solid understanding of regulations, compliance and security standards and be able to implement them effectively and efficiently.
The IT Managed Services Model
IT Managed services are a set of IT services that are outsourced to a managed service provider (MSP) on a contract or subscription basis. Some common IT managed services include:
Network management: This includes monitoring and supported devices, such as routers and switches, and troubleshooting network issues.
Data backup and recovery: This includes creating and retaining backups of a business's data, as well as restoring data in the event of a disaster or data loss.
System updates: This includes installation and configuration of updates, as well as troubleshooting issues.
Cloud services: This includes managing cloud-based services, such as Microsoft Azure or Amazon Web Services.
Helpdesk support: This includes providing technical support to users for a wide range of IT issues.
Remote monitoring and management: This includes monitoring IT systems and infrastructure remotely, which allows for proactive upkeep and fast troubleshooting.
Cybersecurity: This includes implementing cybersecurity measures, such as firewalls, antivirus software and intrusion detection systems, and monitoring for any breaches.
Email filtering: This includes filtering out spam, phishing attempts and other unwanted emails.
Compliance management: This includes ensuring that the business is in compliance with relevant regulations and standards, such as HIPAA, PCI-DSS and SOC.
Virtualization: This includes managing and maintaining virtual servers, workstations and other virtualized resources.
VoIP: This includes managing and maintaining voice over IP systems and services.
Mobile device management: This includes managing and securing mobile devices such as smartphones, tablets and laptops used by employees.
Network security: This includes implementing network security measures such as firewalls, intrusion detection and prevention systems, and VPNs.
Disaster recovery: This includes developing and implementing disaster recovery plans, as well as testing and maintaining disaster recovery systems.